Roger C. McIntosh, Ph.D. -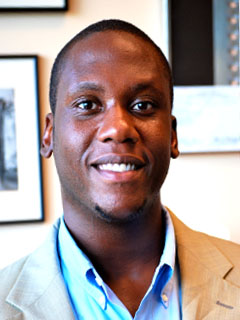 Dr. McIntosh earned his Ph.D. from Florida Atlantic University in 2012 and began his career at the University of Miami the same year as a postdoctoral fellow on the NIMH-T32 Training Grant (MH018917) where his training focused on the psychoneuroimmunological mechanisms of chronic HIV-1 infection. As an Associate Professor within the Health Division his psychological research interests range from understanding the impact of mood disturbances such as anger and depression to psychosomatic disturbances like alexithymia on health outcomes in persons living with HIV/AIDS. Dr. McIntosh's neuro-based work utilizes functional magnetic resonance imaging to elucidate the effects of age and chronic disease on neuroendocrine regulation and neurocognitive functioning in the executive function, learning and memory domains. His immune-based work focuses on the bidirectional effects of systemic inflammation on cardiovascular, central and autonomic nervous systems in persons living with HIV/AIDS. 


As director of the BREATH Lab, Dr. McIntosh supervises neuropsychological, cardioautonomic and cardiorespiratory assessment. In addition, the lab conducts flow cytometric analysis to characterize inflammatory-immune and endothelial cell populations, as well as functional magnetic resonance imaging to quantify cerebral perfusion, brain metabolite spectroscopy, resting state functional connectivity, and task-based activity. This multi-modal interdisciplinary approach not only facilitates discovery in health neuroscience but provides hands-on training for health and cognitive behavioral neuroscience trainees. Dr, McIntosh is currently supported by the National Heart, Lung and Blood Institute K01 mechanism (HL139722-01, McIntosh (PI), 2/6/2018 - 2/5/2023) to examine HIV-related alterations to the central-autonomic nervous system and associated risk for developing hypertension.
---